Posted under:
General
Posted on: January 5, 2015
Understanding a Common Dental Emergency Can Save Your Teeth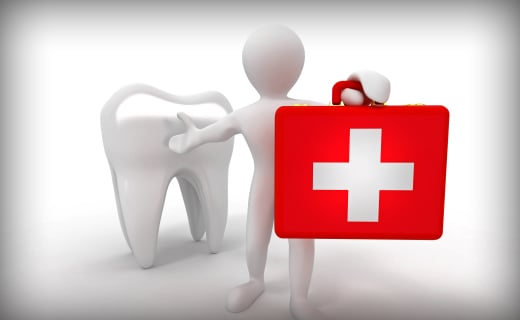 Can you handle a sudden dental emergency? It's essential to know what types of dental problems require immediate treatment and what types can wait until your dentist's normal business hours, so you and your family never risk losing teeth because of bad decisions. Knowing the difference can also help you avoid costly and unnecessary trips to hospital emergency rooms. A dental emergency can happen any time of the day or night. Whether you are at home or traveling, be sure you have a plan of action for handling common emergency dental situations. Broken, Cracked, or Knocked-Out Teeth Cracked and broken teeth often occur as a result of biting a hard piece of food or using the teeth on non-food substances. Knocked-out teeth may be due to a sports-related injury or an accident involving facial impact such as a fall. A chipped tooth or small fracture can sometimes wait until your dentist's normal office hours. However, if the crack is large, a piece of tooth is missing, or the tooth has been completely removed from its socket, immediate medical attention is necessary. Until you can get to an emergency dentist, try to place a knocked-out tooth back into its socket. If this is not possible, rinse the tooth, and place it into the mouth or in a glass of milk. Getting the Emergency Dental Care You Need

 Some emergencies are not as clear-cut. If you have severe tooth pain, swelling, or signs of an abscess and think you need urgent care, call your dentist and request an emergency dental appointment. Even if the office is closed, dial the number to obtain recordings of emergency information or to reach an answering service that may be able to direct you to a local emergency dentist, or help you determine if the problem requires a trip to the hospital. To get the dental care you deserve from an affordable dentist in Bradenton, call today at or make an appointment. Manatee Dental offers affordable family dentistry and gentle, compassionate dental care in Bradenton. With 2 affiliated practices in the Bradenton area, our offices are conveniently located with extended hours to meet your needs. At , we provide most dental services, from basic preventative care and general dentistry to specialized procedures and complete dental reconstruction. We accept most dental insurance plans and offer affordable financial solutions for any budget. Patient satisfaction is our top priority and we strive to provide the exceptional, affordable dental care and personal touch that lead to lasting relationships. A smiling patient is our greatest reward and we look forward to keeping those smiles healthy, beautiful, and bright. Discover an affordable dentist who truly cares at .