Treatment Options for Sensitive Teeth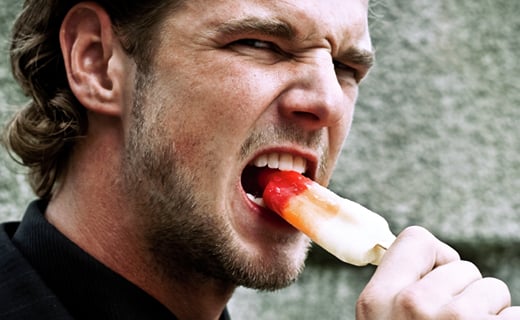 Sensitive teeth are a common problem that disrupts the lives of millions of people every day. Many people live with the condition, thinking there is little they can do about it. However, your family dentist in Bradenton can offer a variety of dental care solutions based on the root cause of your tooth sensitivity. For some individuals, it is a minor matter that may be corrected with a fluoride treatment and special toothpaste, but for others sensitive teeth are a sign of a more significant problem. If you are suffering from tooth pain or uncomfortable sensations in your teeth when you eat certain foods, brush your teeth, or even inhale deeply, see your dentist and get treated. Tooth sensitivity occurs when the enamel has been damaged and the tooth's dentin—the protective layer covering of the tooth's nerves—is exposed. Within the dentin layer are numerous tubes, called tubules, which lead to the nerve center of the tooth. When the nerves are exposed, they transmit pain or discomfort when they are subjected to cold and hot foods or beverages, acidic or sweet foods, and sharply inhaling air through the mouth. If you have tooth sensitivity, see your dentist in Bradenton to get an accurate diagnosis. Your dental care team can determine the cause of your sensitive teeth and see if there are signs of exposed dentin. Tooth sensitivity can be caused by tooth decay or gum disease, which can be treated to ease the pain or discomfort. But, if the root of the tooth has been fully exposed due to erosion, a root canal may be necessary to repair the damage. Treatment for Sensitive Teeth
In-Office Treatments for Sensitive Teeth:
Applying fluoride varnish will strengthen the teeth's enamel and dentin
Applying a highly concentrated fluoride foam or gel will strengthen the teeth
Using a bonding agent will seal the dentin and provide a barrier to sensitivity

At-Home Treatments for Sensitive Teeth:

Brush with a soft-bristled toothbrush using a gentle, circular motion
Avoid vigorous, hard pressure while brushing or over-brushing
Use non-abrasive, ADA-approved toothpaste
Use a toothpaste formulated to relieve sensitive teeth if damage already exists
Ask your family dentistry experts about toothpastes with a high fluoride concentration to strengthen your teeth
To get the dental care you deserve from an affordable dentist in Bradenton, call today at or make an appointment. Manatee Dental offers affordable family dentistry and gentle, compassionate dental care in Bradenton. With 2 affiliated practices in the Bradenton area, our offices are conveniently located with extended hours to meet your needs. At , we provide most dental services, from basic preventative care and general dentistry to specialized procedures and complete dental reconstruction. We accept most dental insurance plans and offer affordable financial solutions for any budget. Patient satisfaction is our top priority and we strive to provide the exceptional, affordable dental care and personal touch that lead to lasting relationships. A smiling patient is our greatest reward and we look forward to keeping those smiles healthy, beautiful, and bright. Discover an affordable dentist who truly cares at .