The Risks of Being Too Busy for Dental Cleanings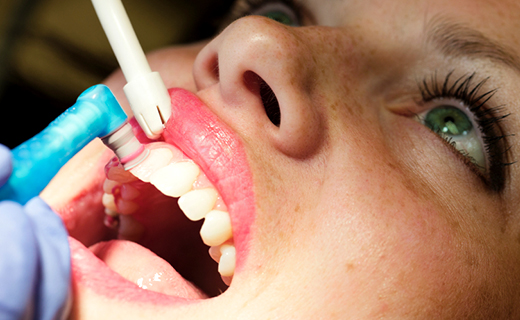 When was the last time you had a teeth cleaning? How many times did you skip brushing your teeth this week? Can you remember the last time you flossed? It's not uncommon for many Americans to push aside basic dental care habits; after all, you're busy living your life. However, you may want to reconsider skipping these habits. More and more research is emerging linking whole-body diseases to oral health. Studies have found that skipping even one dental visit per year (the recommendation is to head to the dentist twice per year), can result in a significantly increased risk of heart disease—as much as 70 percent. Another study found that subjects who visited their dentist only once a year were also at an increased risk of stroke. This makes quite a case for rearranging that busy schedule to accommodate regular visits to your dentist and dental hygienist.
To reduce the following risks of disease and other oral problems, visit your dentist and dental hygienist every six months and don't skip your daily flossing, brushing, and rinsing.
Oral Cancer – The Oral Cancer Foundation reports that one person in the U.S. dies from oral cancer each hour, every single day. Your dentist is instrumental in helping you identify and treat oral cancer. It's a good reason to not miss a visit.
Loss of Physical Health – Heart attack, stroke, diabetes, bone loss, lung disease—the list gets longer as researchers uncover further evidence that your oral health is heavily linked to your physical health. This hypothesis speculates that the correlation between disease risk and oral health is the level of inflammation maintained in the mouth when proper dental care habits are neglected.
Gum Disease – Gum disease is the leading cause of tooth loss in adults. It's a highly preventable condition that may begin as inflammation of the gums and quickly develop into disease, destroying your gum tissue and the supporting bone of your teeth. The disease can be reversed if caught in the early stages, but left untreated, you will lose your teeth. Routine professional teeth cleaning, check-ups, daily flossing, and twice-daily brushing are key factors in preventing gum disease.
Tooth Loss – The biggest risk of not taking care of your teeth is the loss of your teeth. Gum disease and tooth decay can rob you of your smile, facial structure, and the ability to speak and chew normally. You only get one set of permanent teeth, so care for them diligently.
Bad Breath – Temporary causes of bad breath are linked to the food you eat, smoking, and the build-up of bacteria in the mouth due to poor dental care. Chronic bad breath can be an early sign of disease. Talk to your dentist in Bradenton if you have persistent bad breath.
To learn about our family dentistry practice in Bradenton, call Manatee Dental of East Bradenton today at (941) 538-6339 or make an appointment.
Manatee Dental offers affordable family dentistry and gentle, compassionate dental care in Bradenton. With 2 affiliated practices in the Bradenton area, our offices are conveniently located with extended hours to meet your needs. At Manatee Dental of East Bradenton, we provide most dental services, from basic preventative care and general dentistry to specialized procedures and complete dental reconstruction. We accept most dental insurance plans and offer affordable financial solutions for any budget. Patient satisfaction is our top priority and we strive to provide the exceptional, affordable dental care and personal touch that lead to lasting relationships. A smiling patient is our greatest reward and we look forward to keeping those smiles healthy, beautiful, and bright. Discover an affordable dentist who truly cares at Manatee Dental of East Bradenton.