The Nightmare of Gum Disease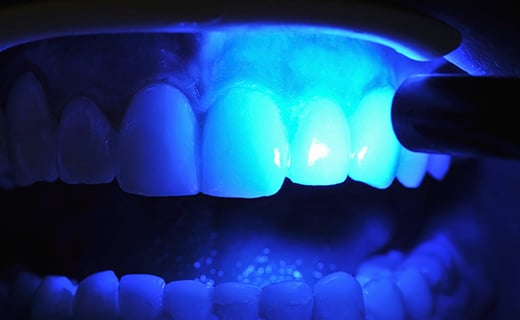 Have you ever had that dream, the one where your teeth are falling out? For many American adults, of all ages, tooth loss isn't just a nightmare, it's a real problem.  Gum disease is the leading cause of tooth loss among adults and it's not just a disease that impacts the older population. One study found that 60 percent of teens in the U.S. are affected by some form of gum disease. The problem begins with gingivitis, the earliest stage of gum disease. Bacteria build up in the gum tissue causing the gums to become red and swollen. The teeth remain firmly in their sockets and no irreversible damage has occurred. However, if left untreated, gingivitis can quickly develop into periodontal disease. Periodontal disease is the advanced stage of gum disease and causes the gum and bone to pull away from the teeth, resulting in the development of pockets that collect debris and become infected. Bacteria then go to work destroying the delicate tissue and once-sturdy bone that hold the teeth in place. Your teeth become loose in their sockets and may begin to fall out. If you think that sounds like a nightmare, it is. The good news is that it never has to become your reality—it's completely preventable with proper dental care habits and routine visits to an affordable dentist in Bradenton. What Causes Periodontal Disease? Plaque and bacteria are the primary causes of periodontal disease. Age and certain lifestyle factors can contribute to the levels of plaque and bacteria in your mouth, so proper dental care is imperative to keeping your gums healthy and teeth firmly in place.
Illness. Illnesses can affect your gums. Cancer, HIV, and diabetes, for example, increase the risk for developing infections, including periodontal disease.
Hormonal changes. Hormone fluctuations during pregnancy, menopause, and menstruation can make gums more sensitive and easily lead to the development of gingivitis.
Medications. Certain prescription medications cause impaired saliva production, causing dry mouth, which keeps bacteria from being washed from the teeth and gums.
Tobacco. Smoking or chewing tobacco makes it difficult for gums to heal and contributes to the formation of toxins that can lead to damage.
Skipping dental care. Failing to brush and floss every day causes bacteria to build up and cause inflammation, which leads to gum disease. Neglecting routine dental visits leaves you susceptible to oral bacteria that can't be removed by brushing and requires professional dental care.
What Are the Symptoms of Periodontal Disease? Gum disease can progress silently, showing few signs, but you can stop the condition from advancing to an irreversible stage if you know what to watch for:
Swollen, tender, or red gums
Receding gum line
Bleeding gums when brushing
Pockets between the teeth and gums
Chronic bad breath or foul taste in the mouth
Loose teeth
Changes in your bite or fit of your dentures
An absence of these symptoms doesn't mean you don't have periodontal disease. Routine visits to an affordable dentist in Bradenton can ensure that you prevent or get early treatment for gum disease. To get the dental care you deserve from an affordable dentist in Bradenton, call today at or make an appointment. Manatee Dental offers affordable family dentistry and gentle, compassionate dental care in Bradenton. With 2 affiliated practices in the Bradenton area, our offices are conveniently located with extended hours to meet your needs. At , we provide most dental services, from basic preventative care and general dentistry to specialized procedures and complete dental reconstruction. We accept most dental insurance plans and offer affordable financial solutions for any budget. Patient satisfaction is our top priority and we strive to provide the exceptional, affordable dental care and personal touch that lead to lasting relationships. A smiling patient is our greatest reward and we look forward to keeping those smiles healthy, beautiful, and bright. Discover an affordable dentist who truly cares at .