The Advantages of Different Types of Fillings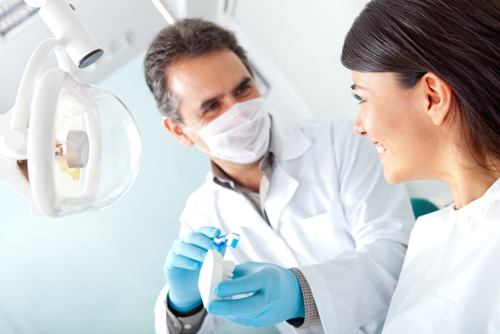 Despite your attention to detail when it comes to brushing, flossing and rinsing with mouthwash on a daily basis, your dentist may find a cavity or two in your mouth at some point in your life. While it's not the best news, it's not the worst, either. But did you know that there are different types of fillings that your dentist can use? Here are several of the options, as well as their advantages.
Cast gold
This type of filling is extremely durable and can withstand the pressure of chewing food for years. It doesn't corrode like some other types of fillings, and many patients find them more attractive than silver (amalgam) fillings.
Amalgam
Made from silver, tin, mercury, zinc and copper, amalgam fillings are long-lasting and are the least expensive option among filling materials. They're strong and can hold up against chewing pressure for many years.
Composite
This tooth-colored material, which is a mixture of plastic and glass particles, can be matched to the color of your teeth, so it's not as noticeable as some other types of fillings. It also forms chemical bonds with teeth, which give the fillings further support. In some cases, less tooth structure needs to be removed before applying the fillings compared to other materials.
Ceramic
These fillings are often made of porcelain and are more resistant to staining than composite fillings. It's very long lasting and many people find ceramic fillings more aesthetically pleasing.
Glass ionomer
Made of acrylic and a certain type of glass material, these fillings are good for children and release fluoride, which helps prevent tooth decay. The material also bonds to the tooth and closely matches the color of teeth.