Taking Care of Your Smile in Bradenton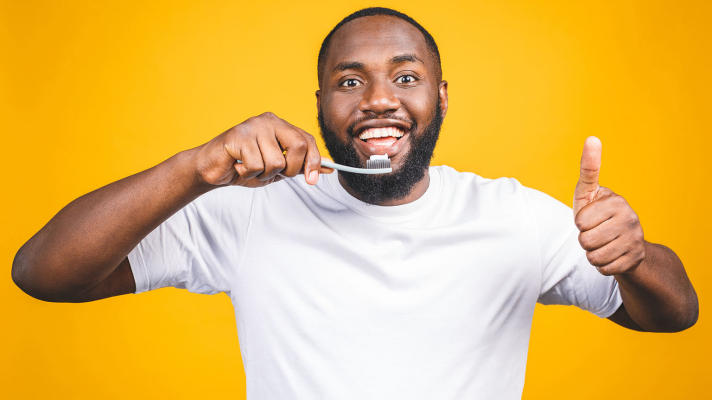 Language barriers can make communication tough. Smiling breaks through. Universally recognized as a signal of acceptance and happiness, a smile is an expression that speaks when words fail. That's not its only power. This everyday expression can positively impact your physical, mental, and emotional health. Can a smile a day keep the doctor away? Are there moves you can make to care for your grin? How can our dentist in Bradenton assist you? As major fans of smiles, the team at Manatee Dental of East Bradenton is always eager to answer your questions.
Can a Smile a Day Keep the Doctor Away?
It's long been said that a daily apple might be handy at warding off doctors. Most people recognize this familiar proverb isn't a literal prescription. It's simply a reminder that eating nutritious foods can help you stay healthier. Smiling more may serve a similar function, according to experts. It's both powerful and empowering.
Smiling may help you live longer. That's because it powers up the immune system and lowers your stress level. This can help you fend off illness. Smiling also helps decrease blood pressure and prompts the body to release endorphins, chemicals that serve as natural painkillers and mood boosters.
Smiling empowers you by making you feel happier and more confident. Those feelings are reinforced by the people that you interact with because others tend to think that smiling people are friendlier, more appealing, and more successful.
Are There Moves That You Can Make to Care for Your Grin?
Feeling good about your grin is a positive thing. To ensure that you don't lose that feeling, you'll want to protect your smile. Thankfully, there are several smart moves that you can make to take care of your grin.
Opt for Nutritious Foods
Provide your body with the building blocks for a healthy, beautiful smile by eating nutritious foods. A mix of protein, healthy fats, minerals, vitamins, and other nutrients is wise, but your teeth find calcium, vitamin D, and phosphorus especially useful. To get enough, pile your plate high with colorful fruits and vegetables, nuts and seeds, dairy, lean meats, whole grains, and other nutritious choices.
Restrict Acidic and Sugary Drinks
Acidic fluids weaken dental enamel, which is the tough outer layer of your teeth. Sugary drinks delight people and the bacteria that attack teeth and create tooth decay and gum disease. Restricting the amount of acidic and sugary drinks that you consume is a smart strategy. Limit energy drinks, sports drinks, sodas, and lemonades. When you do indulge, protect your teeth. Follow these drinks with a glass of water, use a straw, and try to brush your teeth soon afterward.
Be Mindful of Sticky and Staining Refreshments
Sticky foods can accumulate bacteria on your teeth and make cleaning difficult. Be mindful when consuming toffees, caramels, granola bars, and fruit chews. Also, watch out for mouthfuls that are likely to stain your pearly whites. Red wines, dark teas, coffee, and fruit juices can cause problems. To combat discolorations, use a straw, drink water, or brush your teeth after drinking these beverages. If you notice stains, talk with our dentist about whitening treatments or other possibilities.
Use the Right Tools to Brush
Brushing your teeth with a hard-bristled toothbrush or an overly aggressive approach can cause pain and damage tender gums. Using a worn-out toothbrush, or ineffective or poorly chosen products can leave your mouth less than clean. For the best results, use a soft toothbrush, fluoride toothpaste, and a technique that's approved by your dentist. Brush at least twice a day.
Do Not Forget to Floss
Flossing is rarely a favorite task, but it's a crucial part of a stellar oral healthcare regimen. After all, it reaches places that toothbrushes can't. Remember to floss at least once a day.
Swish Some Mouthwash
Mouthwash is another way to clean spaces that toothbrushes struggle to reach. Select an alcohol-free mouthwash that contains fluoride.
See a Dentist in Bradenton for Checkups and Cleanings
Visiting Manatee Dental of East Bradenton to see our dentist in Bradenton for regular checkups is an excellent way to protect your smile. You'll enjoy a deeper cleaning, have a chance to check in with the dentist about any concerns, and be able to verify that all is well with your oral health.
Are Dental Checkups Really Necessary?
At first, the plaque that forms on teeth can be removed by wielding a toothbrush. However, anything that's missed will harden over time into tartar. This nasty substance is bad news for teeth and gums, and only a professional cleaning can clear it away. That's just one reason that dental checkups and cleanings are so important. When you come to Manatee Dental of East Bradenton to see our dentist in Bradenton, you'll also receive preventative screenings, and advice on your oral healthcare routine. Our dentist will also look for any signs of trouble and talk about any concerns.
A healthy smile says so much. At Manatee Dental of East Bradenton, we love seeing smiles thrive. To schedule an appointment with our dentist in Bradenton, contact us.