Strategies for Preventing Cavities in Preschool Children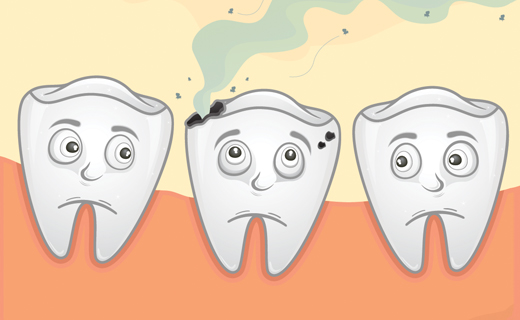 Preventing cavities in children takes planning, diligence, and attention to detail, but it works. Tooth decay prevention relies heavily on oral hygiene and proper professional dental care. It also requires healthy eating plans and lots of early training to develop lifelong good habits. The most important part of any dental care regimen is brushing teeth in the morning and in the evening and if possible, after every meal. Flossing to remove plaque between teeth helps deter cavities that often begin in these areas. As soon as they are old enough to brush without swallowing toothpaste, preschool kids should be taught to brush using fluoride toothpaste.
Limit Sugar Consumption
It's best to limit the amount of sugary snacks and beverages children consume throughout the day. Parents should not allow young children to fall asleep with a bottle at bedtime. Acids from juice or milk sitting inside the mouth eat away at tooth enamel and can damage both primary and adult teeth.
Consider Dental Sealants
Children who have teeth with deeply grooved molars that tend to trap food particles may benefit from tooth sealants. Sealants are clear or colored coatings applied to the grooved chewing surfaces of teeth to protect them from tooth decay caused by plaque. Because they cover the areas where most cavities begin, sealants are a powerful weapon against them.
Understand the Value of Fluoride
Fluoridated water works inside the body to strengthen and protect developing teeth, while the fluoride in dental care products works topically to strengthen teeth that have emerged. Both fluoride sources are important. If your water source does not have added fluoride, be sure that your dentist knows. Your child may need a fluoride supplement.
Preventing Cavities in Baby Teeth
Cavities in primary teeth should usually be filled. If tooth decay progresses and the affected tooth is lost, spacing problems may occur that could affect permanent teeth. Schedule dental check-ups twice a year when all baby teeth have appeared. If you see signs of tooth decay, or a baby tooth darkens, see your dentist in Bradenton immediately.
To learn about our family dentistry practice in Bradenton, call Manatee Dental of East Bradenton today at (941) 538-6339 or make an appointment.
Manatee Dental offers affordable family dentistry and gentle, compassionate dental care in Bradenton. With 2 affiliated practices in the Bradenton area, our offices are conveniently located with extended hours to meet your needs. At Manatee Dental of East Bradenton, we provide most dental services, from basic preventative care and general dentistry to specialized procedures and complete dental reconstruction. We accept most dental insurance plans and offer affordable financial solutions for any budget. Patient satisfaction is our top priority and we strive to provide the exceptional, affordable dental care and personal touch that lead to lasting relationships. A smiling patient is our greatest reward and we look forward to keeping those smiles healthy, beautiful, and bright. Discover an affordable dentist who truly cares at Manatee Dental of East Bradenton.