Start Early to Ensure Lifelong Proper Dental Care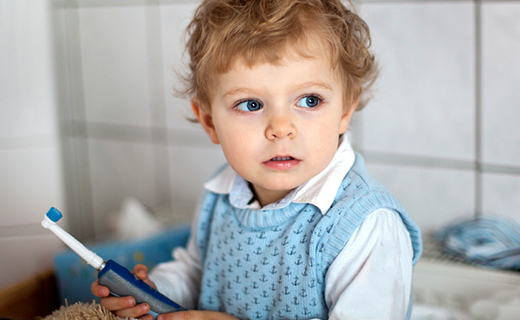 Teaching a 6-month-old about proper dental care sounds like a farfetched concept, yet parents who spend time familiarizing their babies with the sensations associated with dental care from a very early age improve outcomes for oral health throughout life. Shortly after birth, you can begin cleaning your baby's gums with a soft cloth or gauze after feeding.  When your child's first tooth emerges, you can begin teaching him or her the basics of dental care, such as using a toothbrush and brushing twice per day. Dental caries are on the rise among the youngest members of the population, making proper dental care and routine visits to a family dentistry expert an essential lesson for parents to instill in their little ones.
Follow these four habits of proper dental care for kids to teach your children about the importance of healthy teeth and routine dental care.
1. Begin dental care at an early age. Just as you can begin cleaning your baby's gums shortly after birth, you should be taking your one-year-old to your family dentistry practitioner, according to the American Academy of Pediatrics and the American Academy of Pediatric Dentistry. The CDC reports establishing this habit early is an integral preventive health measure that reduces dental care costs by as much as 40 percent across a five-year period.
2. Look out for tooth decay caused by baby bottles and sippy cups. Family dentistry experts and pediatricians warn parents about putting an infant or older child down for a nap with a bottle of juice, formula, or milk. This leaves a sugary film on the teeth that can do serious damage when paired with the bacteria of the mouth while your child sleeps. Not only can tooth decay occur, but untreated dental disease can adversely impact speech, learning, and certain aspects of growth.
3. Eliminate pacifiers after age 2. Using pacifiers in the first year of life have been linked to preventing sudden infant death syndrome, according to the American Academy of Pediatrics. A pacifier is safe to use when putting your infant to sleep, but do not reinsert once your baby has fallen asleep. An infant's dental health can be affected by long-term use of a pacifier, since strong sucking can impair proper tooth alignment.
4. Teach proper brushing and flossing. While it may seem that the baby teeth are not important, the care of the primary teeth directly affects outcomes for the secondary teeth. The gums and jawbone are tissues that support the teeth throughout life. If you don't help your child properly care for their baby teeth, the risk of damage to this tissue rises significantly.
See an affordable dentist and ask about all the ways you can help your child learn and embrace proper dental care. It can make all the difference in their health for life.
To get the dental care you deserve from an affordable dentist in Bradenton, call Manatee Dental of East Bradenton today at (941) 538-6339 or make an appointment.
Manatee Dental offers affordable family dentistry and gentle, compassionate dental care in Bradenton. With 2 affiliated practices in the Bradenton area, our offices are conveniently located with extended hours to meet your needs. At Manatee Dental of East Bradenton, we provide most dental services, from basic preventative care and general dentistry to specialized procedures and complete dental reconstruction. We accept most dental insurance plans and offer affordable financial solutions for any budget. Patient satisfaction is our top priority and we strive to provide the exceptional, affordable dental care and personal touch that lead to lasting relationships. A smiling patient is our greatest reward and we look forward to keeping those smiles healthy, beautiful, and bright. Discover an affordable dentist who truly cares at Manatee Dental of East Bradenton.