Save Yourself Sleepless Nights: Prevent Sleep Apnea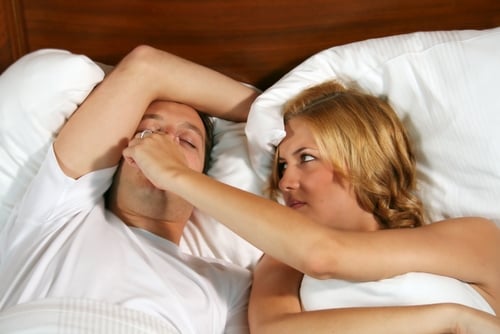 You might think that the worst part of lying beside someone with sleep apnea is the frequent snoring, but that's nothing compared to what your sleepmate is going through. Having this condition can be seriously detrimental to those affected, particularly because it robs them of sound sleep.
While you're hearing the snoring aspect, the person with sleep apnea is moving out of a deep sleep and ultimately disrupting their rapid-eye movement (REM) cycle and overall circadian rhythm. Each time a person's breathing pauses or becomes shallow and disrupted with a loud snorting sound, sleep has been disrupted. This can lead to excessive daytime sleepiness.
Detecting the problem
Unfortunately, sleep apnea often goes undetected because it only occurs during sleep. The most common way to identify it is for a sleeping partner to call attention to the issue, so those who think they might be embarrassing their significant other will actually be doing a service to them by bringing up the problem.
Obstructive vs. central
Obstructive sleep apnea is the most common form, and occurs when a person's airway becomes blocked or collapses during sleep. As a result, the affected individual's breathing pauses or is shallow, often causing him or her to wake up in the middle of the night.
A less common form is central sleep apnea, which puts the brain at the root of the problem. In this case, the area of your brain that controls breathing doesn't send the right signals to your breathing muscles. For brief periods of time, you might not make any effort to breathe. This type of disorder is generally more common in people taking certain medications that might impact their central nervous system.
Symptoms
While a lack of sleep is one obvious side effect of this issue, there are other problems that can occur as well. Chronic headaches, forgetfulness and even depression can arise in these individuals, and the best way to prevent the disorder from getting worse is to see a doctor and seek possible methods of treatment.
Treatment
Several types of dental appliances are available for those who are experiencing obstructive sleep apnea. According to the American Academy of Sleep Medicine, patients with mild to moderate cases of the disorder should consider this type of treatment. The first step is to visit your dentist, who will then fit a specific device for your mouth.
One of the most commonly used devices is the mandibular advancement device (MAD), which looks like a sports mouth guard. The tool keeps the airway open by forcing your lower jaw down and forward. While some might feel silly wearing the device to bed, their partners will thank them, and so will their biological clocks when they start receiving a healthy amount of rest each night.
While surgical options are available as well, many people who experience the symptoms of sleep apnea prefer dental devices because there are much fewer complications and it is a less invasive form of treatment.
Managing and Preventing
You can certainly take advantage of the services and treatments available to take care of your disruptive sleep patterns, but there are even steps you can take to manage and prevent the behavior altogether.
Some products you use can make the disorder worse, such as alcohol, cigarettes and certain medicines. One of the most common traits of those with sleep apnea is being overweight. By starting a healthier lifestyle with physical exercise and nutritious eating, you can potentially reduce the chances of sleep apnea and get in a healthy dose of Zz's each night.