Routine Teeth Cleaning Aids Early Treatment Opportunities for Chronic Disease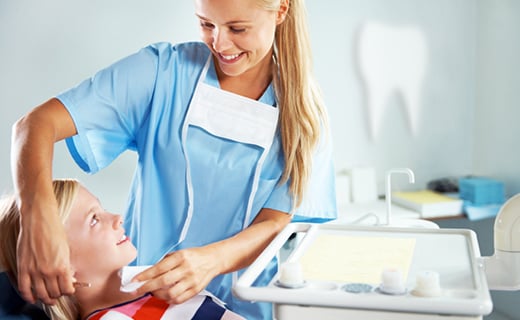 Heart disease, diabetes, and pancreatic cancer—all of these diseases appear to have nothing to do with your bi-annual teeth cleaning, right? However, conclusive evidence has surfaced that your total-body health is directly connected to the state of your oral health. Cavities, gum disease, and even tartar build-up can be signs of disease throughout the body. The symptoms are easy for you to miss, but your dentist and dental hygienist know exactly how to spot a possible infection. Aside from the fact that a professional teeth cleaning removes nasty bacteria and tartar build-up that cannot be removed by routine brushing and flossing alone, it also aids in early diagnosis and treatment of chronic diseases, such as heart disease, diabetes, and pancreatic cancer.  Learn more about how your oral health is heavily linked to your total health. Poor oral health is often a direct result of excessive inflammation. Inflammation can begin in the mouth and move to other areas of the body, or it can begin in the heart or lungs and make its way to the mouth. Either way, red swollen gums and mouth ulcers are cause for concern. The importance of a routine teeth cleaning cannot be overstated. Your twice-yearly teeth cleaning with a dental hygienist is an opportunity for early detection and treatment of a host of chronic diseases. Research from around the world has discovered conclusive evidence that poor oral health is an early sign of chronic whole-body diseases. One study found that skipping just one dental care visit each year can increase your risk of heart disease by as much as 70 percent. The American Dental Association states that 90 percent of whole-body diseases have oral manifestations. Some of the diseases linked to poor oral health include:
Stroke
Pancreatic cancer
Leukemia
Oral cancer
Diabetes
Lung disease
Kidney disease
Chronic disease isn't the only concern related to missing routine visits to your dentist in Bradenton. You may also experience pain and be at risk for other health concerns, such as:
Heart Problems. Bacterial endocarditis is just one example that poor oral health can contribute to. Endocarditis occurs when inflammation reaches the heart or heart valves, worsening heart disease and causing significant damage to the organ.
Digestive Disorders. Inflammation in the mouth can lead to intestinal failure, irritable bowel syndrome, and other digestive disorders.
Oral and Facial Pain. Pain around the teeth, gums, and face is often linked to infections of the gums, according to the office of the U.S. Surgeon General. This can result in gingivitis, the early stage of gum disease, and eventually full-blown gum disease and tooth loss. Presently, more than 75 percent of the U.S. population is affected by gum disease.
Be sure to practice proper at-home dental care and don't miss your twice-a-year teeth cleaning appointments with a dental hygienist—it could save your life. To learn about our family dentistry practice in Bradenton, call today at or make an appointment. Manatee Dental offers affordable family dentistry and gentle, compassionate dental care in Bradenton. With 2 affiliated practices in the Bradenton area, our offices are conveniently located with extended hours to meet your needs. At , we provide most dental services, from basic preventative care and general dentistry to specialized procedures and complete dental reconstruction. We accept most dental insurance plans and offer affordable financial solutions for any budget. Patient satisfaction is our top priority and we strive to provide the exceptional, affordable dental care and personal touch that lead to lasting relationships. A smiling patient is our greatest reward and we look forward to keeping those smiles healthy, beautiful, and bright. Discover an affordable dentist who truly cares at .