Reasons and Remedies for Tooth Discoloration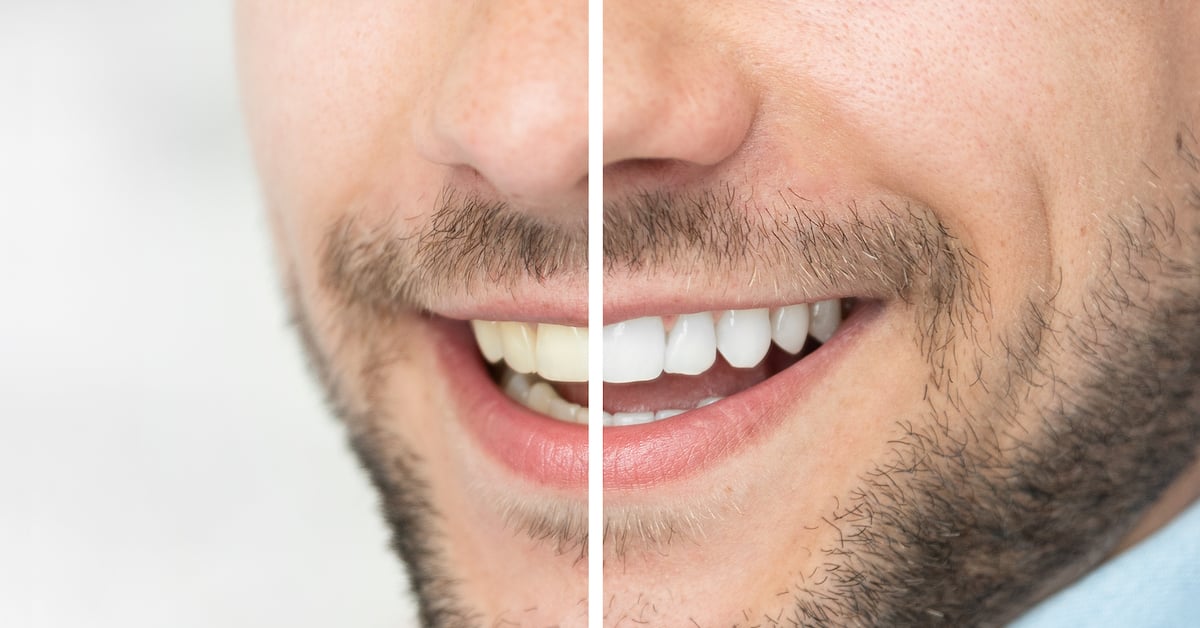 Yellowed, stained teeth can zap your self-confidence. Fortunately, your dentist has solutions that can help you get your bright, white smile back. You don't have be embarrassed to smile anymore.
Why Do Teeth Become Discolored?
Eventually, everyone's teeth discolor with age. The outer layer of the teeth, called the enamel, begins to wear away, exposing the yellower second layer, the dentin. Genetics plays a role in how quickly teeth yellow with age, as some individuals are born with harder enamel than others. Trauma is another factor that darkens teeth that we can't control. Injuries to a child's tooth can interrupt enamel formation. In adults, an accident can cause nerve death, making the tooth appear greyish in color.
Certain illnesses can discolor teeth. These include liver disease, rickets, celiac disease and eating disorders. Certain medications will also discolor teeth. Moms who took tetracycline during pregnancy or while breastfeeding had children with tooth discoloration. Fortunately, it's no longer prescribed to pregnant or breastfeeding women. Certain high blood pressure medications and antihistamines can also discolor teeth, although your dentist can polish these stains away.
Lifestyle choices, which you control, will also discolor teeth. If you have poor dental hygiene, your teeth will appear yellow. Certain lifestyle choices will make your teeth yellow as well. There are foods that stain teeth and smoking will give you yellow teeth.
What Foods Should I Avoid to Keep My Teeth From Staining?
You don't have to avoid the following foods and beverages as long as you take steps to mitigate the staining they cause. Consider brushing your teeth right after eating these foods or limiting their consumption. While it's a good idea to eat a balanced diet, full or fruits and veggies, which will help keep your teeth bright and white, make sure to make regular trips to the dentist to check on your teeth. They will also be able to offer advice as to which foods and drinks you should avoid. Staining foods include some of the following:
Coffee
Dark teas
Red Wine
Grape juice
Cranberry juice
Blueberries
Tomato sauce
Soy sauce
Balsamic vinegar
Beets
Slushies
Chocolate
Curry
Are There Any Foods and Beverages That Fight Staining?
Yes, the following foods can help fight staining:
Apples
Pears
Carrots
Celery
Broccoli
Nuts & Seeds
Strawberries
Pineapple
Cheese
Will Smoking Ruin My Smile?
Yes, cigarettes, cigars and chewing tobacco will discolor your teeth. They will also damage your gums, put you at an increased risk for oral cancer and greatly affect your general health. Did you know smokers are six times more likely to develop oral cancer?
Why Is Tar and Nicotine So Damaging to Teeth?
Teeth absorb tar and nicotine, creating yellow and brown stains. These stains are hard to remove with inexpensive OTC products.
How Can Smokers Lower Their Risk of Tooth Discoloration?
Quitting is the best option, but many smokers are not ready to quit. Cutting down can have a significant impact on how your teeth look. People who smoke 30 or more cigarettes a day have a risk of developing gum disease that is much higher than nonsmokers. Cutting smoking down to 10 cigarettes a day cuts the risk in half. This is important to the appearance of staining because people with gum disease often have receding gums. The nicotine stains stick easily to teeth roots normally located below the gums. You will see people with brown stains near their gums and know they are smokers with untreated gum disease.
Keeping up with regular dental hygiene at home and getting professional dental cleanings twice a year will also help to minimize the damage. Brushing after smoking also helps.
How Can Smokers Whiten Their Teeth?
Long-term or heavy smokers usually need in-office teeth whitening treatments to get their teeth back to their normal color. OTC products can only whiten the teeth of occasional tobacco users.
How to Help Combat Tooth Discoloration
There are several things you can do to minimize teeth staining, including:
Practice diligent dental hygiene at home, including brushing twice a day and flossing daily.
See a dentist for an routine exam and teeth cleaning twice a year.
Brush, rinse or chew sugarless gum after consuming food or drinks that stain teeth.
Quit or cut down on tobacco use.
Beware of teeth whitening tips you find online. For example, some people suggest using a hydrogen peroxide solution you mix at home to rinse your mouth and whiten your teeth. It sounds reasonable, since peroxide is an ingredient in many whitening products. Do it incorrectly and you can cause serious damage to your teeth and mouth. Always ask your dentist about any method you read about online before trying it.
What Is the Best Way to Whiten Teeth?
Your dentist can help you determine the best method for you to whiten your teeth after determining why your teeth are discolored and evaluating your oral health and the extent of the staining. His or her recommendations may include:
Over-the-Counter Toothpastes, Strips, Gels and Gum. These products are generally effective on mild staining and safe if they display the American Dental Association's Seal of Acceptance. Use only as directed to avoid tooth sensitivity.
Dentist-Dispensed, At-Home Bleaching Trays – These kits feature custom trays and a professional-grade bleaching solution. You can whiten your teeth in the privacy of your own home in about two weeks.
OTC Bleaching Trays – These kits have one-size-fits-all trays which may allow the bleaching agent to seep out and burn your gums. They are also less effective as the bleaching agent is weaker than the solution offered by dentists.
In-Office Teeth Whitening – This option offers the best results. While most patients see results in an hour, those will stubborn stains may need a follow-up session.
Teeth bleaching isn't effective on all stains, it generally has no effect on teeth discolored by trauma or medicines. In these cases, your dentist may suggest bonding or a veneer to hide the front of the affected tooth. Restorations can't be bleached either. If you choose an in-office whitening treatment, your dentist can match the color of your restoration so it does not stand out.
Ask one of our dentists about the best option for whitening your teeth.