Protect and Optimize Your Smile While Wearing Braces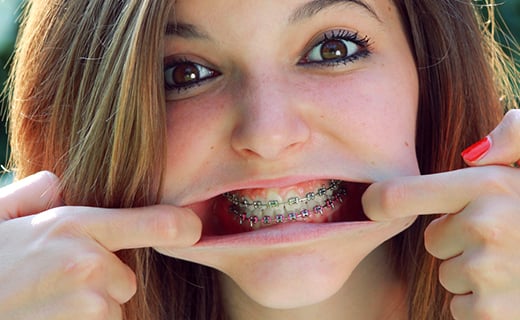 If you need braces for kids or adults, there are more cost-effective options available today than ever before. However, your affordable braces need a little help from you to give you the smile you've always wanted. Wearing braces requires an adjustment period and a willingness to practice good oral hygiene, use proper dental care products, and watch what you eat. Here are a few tips to help you protect your winning smile. Practice Good Dental Care Keeping your teeth and braces clean is essential for preventing gum inflammation and permanent damage to tooth enamel. You have a higher risk of tooth decay and gum disease while you wear braces because the nooks and crannies in the brackets and wires can easily trap food. If you wear elastics, remove them before brushing. Use an ADA-recommended toothpaste and a soft, compact brush, brushing in a circular motion. Gently brush your braces, applying enough pressure to allow bristles to spread into the gaps between the wires and teeth. Brush inside and outside the tooth surfaces and under the wires, floss, and rinse with a mouthwash. Use Proper Dental Care Products Your orthodontist may recommend cleaning aids and other products to help you keep your mouth healthy and prevent tooth discoloration and decay, such as floss threaders, interdental brushes, antiseptic rinses, and topical oral pain relievers. Maintain strict dental care habits, adjust your diet, and follow your family orthodontic expert's recommendations carefully. Your beautiful new smile is worth the extra effort. Watch What You Eat You should avoid these foods while you're wearing braces:
Apples
Oranges
Peaches
Pears
Plums
Corn on the cob
Tomatoes
Cherries
Gum
Chewing ice
Soda or diet soda
Caramels
Hard breads and bagels
Salsa and pickles
Barbecue sauces
Vinegar-based dressings
To get the dental care you deserve from an affordable dentist in Bradenton, call today at or make an appointment. Manatee Dental offers affordable family dentistry and gentle, compassionate dental care in Bradenton. With 2 affiliated practices in the Bradenton area, our offices are conveniently located with extended hours to meet your needs. At , we provide most dental services, from basic preventative care and general dentistry to specialized procedures and complete dental reconstruction. We accept most dental insurance plans and offer affordable financial solutions for any budget. Patient satisfaction is our top priority and we strive to provide the exceptional, affordable dental care and personal touch that lead to lasting relationships. A smiling patient is our greatest reward and we look forward to keeping those smiles healthy, beautiful, and bright. Discover an affordable dentist who truly cares at .