Mouthwash adds extra hygienic punch after brushing and flossing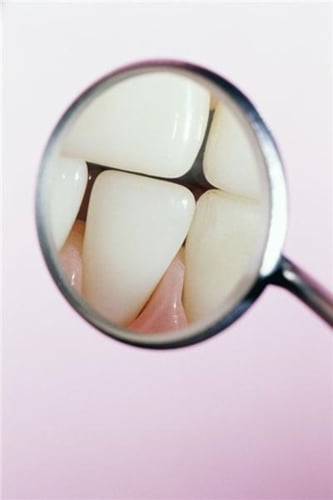 When people discuss dental hygiene with their family dentist, a lot of attention is given to brushing teeth properly and flossing to keep gum inflammation from occurring. But it turns out, the third piece in the dental triumvirate – rinsing with mouthwash – may be more important than previously believed.
A study published in a recent issue of the journal General Dentistry states that mouthwash may reduce plaque build-up on teeth and gum disease more than brushing by itself.
The journal, which is a publication of the Academy of General Dentistry, stated that rinsing twice a day with brushing can lessen plaque by 26 percent and gingivitis, the most common gum disease, by 20 percent.
For six months, researchers followed the dental hygiene habits of 139 adults. Half of them brushed, then rinsed with a germ-killing mouthwash while the second group brushed and used a placebo mouthwash.
"It's simple – mouth rinses can reach nearly 100 percent of the mouth's surfaces, while brushing focuses on the teeth, which make up only 25 percent of the mouth," said Christine Charles, RDH, who led the study. "Even with regular brushing and flossing, bacteria often are left behind."
Charles is director of scientific and professional affairs within the global consumer healthcare research and development division of Johnson & Johnson Consumer and Personal Products Worldwide, which sponsored the study.
Effective use of mouthwash
When the study was completed, those who had been using the germ-fighting mouthwash experienced nearly 100 percent reduction in gingivitis. Those who rinsed with the placebo solution showed a 30 percent decrease in the gum disease.
AGD spokeswoman, Janice Pliszczak, DDS, estimated that most people brush their teeth for less than one minute, although dentists advise their patients that tooth brushing should last two minutes. In addition, only between 2 and 10 percent of people are estimated to floss their teeth properly and on a regular basis. By integrating a mouthwash rinse into the routine, she said, patients have a much greater chance of ridding their mouths of germs that can create oral health problems down the road.
However, she also pointed out that not all mouthwashes are created alike. Just like different types of toothpaste, some rinsing solutions are intended to combat cavity development or to whiten teeth. She encouraged people to read mouthwash labels carefully to ensure they are getting the right solution to prevent tooth decay and gingivitis.