Maintenance Tips for Braces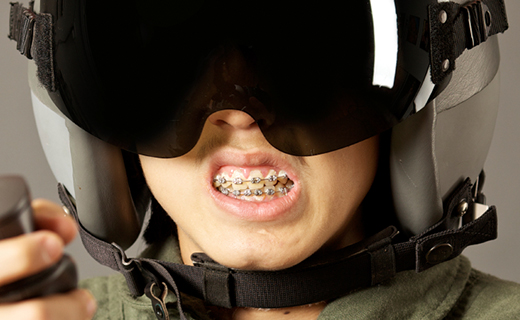 Countless numbers of kids and teenagers have gone through the experience of wearing orthodontic braces. If you are currently among them, or are the parent of a youngster with braces, knowing how to care for them properly is critical. Brushing regularly with fluoride toothpaste is an essential part of keeping braces in great shape, but there are other useful tips that can also help make the process surprisingly easy.
Routine flossing is a habit that should by no means be disregarded simply because you have started wearing braces. By adjusting your technique a bit, you will still be able to reap the food-removal benefits of flossing. Just thread the shorter end of your floss through the gap between the primary arch wire of your braces and the upper part of the tooth, nearest the gum line. Gently work your floss between the teeth, taking care not to use excessive force against the arch wire. Brushing can be done in the usual way, though you may want to add the use of a Proxabrush in order to do the best possible job in between braces.
Though you can eat just about any food you like while wearing braces, provided it is cut into manageable pieces, there are some things you ought to steer clear of due to their potential to damage the braces. Caramels and taffy, popcorn, chewing gum, apples, hard bread rolls, and corn on the cob are a few such items. You should also make sure never to crunch ice, as it can loosen, bend, or break your braces.
Retainers, like affordable braces, also require special attention to keep them as clean as possible. Whenever you brush your teeth, also brush your retainer. On a frequent, perhaps even daily basis, soak the appliance in a denture cleaner to thoroughly disinfect it. It should always be rinsed with fresh water before it is returned to your mouth.
If you play sports regularly, it pays to invest in a mouth guard specifically designed to work with braces. Failing to take care of your braces can lead to problems such as loose bands, loose brackets, protruding or broken wires, and loose spacers. These issues will require repair work by your orthodontist, and should be prevented whenever possible. Fortunately, with the right amount of care and diligence, braces for kids need not be terribly inconvenient or difficult to maintain.
To get the dental care you deserve from an affordable dentist in Bradenton, call Manatee Dental of East Bradenton today at (941) 538-6339 or make an appointment.
Manatee Dental offers affordable family dentistry and gentle, compassionate dental care in Bradenton. With 2 affiliated practices in the Bradenton area, our offices are conveniently located with extended hours to meet your needs. At Manatee Dental of East Bradenton, we provide most dental services, from basic preventative care and general dentistry to specialized procedures and complete dental reconstruction. We accept most dental insurance plans and offer affordable financial solutions for any budget. Patient satisfaction is our top priority and we strive to provide the exceptional, affordable dental care and personal touch that lead to lasting relationships. A smiling patient is our greatest reward and we look forward to keeping those smiles healthy, beautiful, and bright. Discover an affordable dentist who truly cares at Manatee Dental of East Bradenton.