How to Take Care of a Mouthguard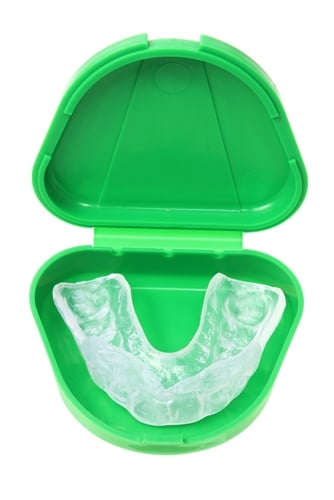 If you're diligent about brushing, flossing and rinsing with mouthwash on a regular basis, you probably would do a lot to protect the health and appearance of your teeth. That might include wearing a mouthguard if you partake in any sports. No matter what type of mouthguard you get, you'll need to take care of it to ensure that it lasts and offers proper protection. Here's how!
Rinse and clean
Rinse your mouthguard with water before and after use. After a big game, it's also a good idea to brush it with toothpaste or wash it in a mild dishwashing liquid.
Keep it in a container
Don't just throw your mouthguard into your bag – put it in a sturdy, ventilated container that will keep it clean and protect it from damage during transport or storage.
Protect it from heat
Hot surfaces, sunlight and hot water can all impact the form of a mouthguard, so try to keep it away from these factors so it will retain its shape.
Check it for wear
Inspect your mouthguard regularly to ensure that there are no areas where it's worn down or any holes in the material. If it feels looser than usual or starts to hurt, it's time to purchase one at the store or ask your dentist about a new one!