How to Care for Dentures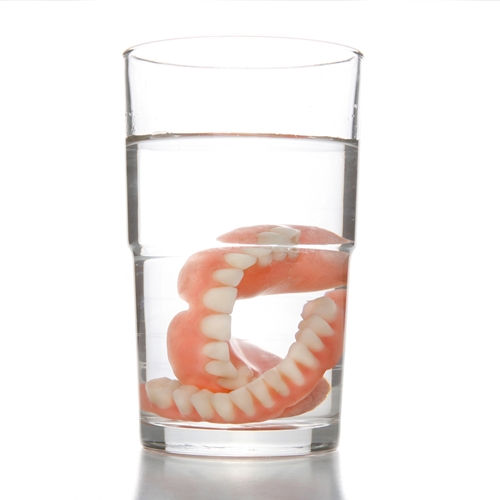 Dentures are useful tools that can help cover missing teeth and improve a person's smile. However, just because you have a full set of dentures doesn't mean that you don't have to continue practicing good oral care habits. It's essential to take good care of your dentures to make them last and keep your mouth safe. Here's how.
Remove and rinse after meals
Dentures help chew the food you eat, so it's always good to have them in during meals. But afterward, it's important to take them out and give them a rinse to clear off any food debris. A simple rinse with water will suffice.
Clean your mouth after denture removal
After you take your dentures out and before you put them back in, it's a good idea to clean your mouth as well. Use a soft-bristled toothbrush on your own teeth and gums, and don't forget to address your tongue and palate.
Brush dentures carefully
When brushing your dentures (which you should do at least once a day), use a soft-bristled toothbrush and brush in gentle circular motions to remove debris and plaque. A non-abrasive cleanser like a denture cleaner or a mild dishwashing liquid should also be used.
Soak overnight
To keep your dentures from warping, place them in a container full of water or a denture-soaking solution overnight. Before you put them back in when you wake up, give them a final rinse to ensure that any chemicals from denture-soaking solutions don't find their way into your mouth.
Handle with care
Whenever you handle your dentures, be careful! They can break easily if dropped. Try placing them on a towel in the bathroom and consider laying one in the sink as you rinse your dentures just in case they slip out of your hands.