Posted under:
General
Posted on: October 27, 2014
Don't Let Dental Fear Destroy Your Smile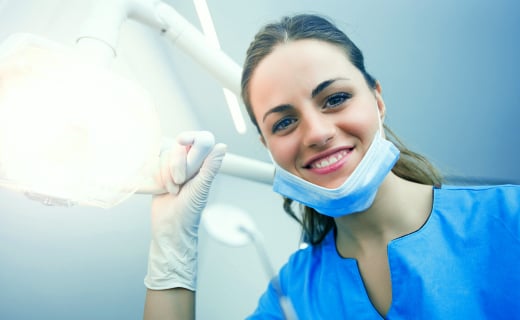 Most people should see their dentist at least once or twice a year, but dental anxiety often keeps them from obtaining optimal dental care. If you're among those who suffer from fear of dental instruments, pain, strange smells, loss of control, or being lectured about your oral health habits, you may end up compromising your teeth and your general health by avoiding your dentist. Today's dentists know that an uncomfortable or embarrassing dental care experience will only do harm, so they adopt strategies that won't humiliate your or add to your dentist phobia. 

If you don't get regular dental care, you may suffer severe dental problems or early tooth loss, but that's not all: dental fear could be compromising your overall health. The condition of your teeth and gums conveys important information about your general health. A dentist is often the first person to spot signs of serious health issues like cancer, diabetes, and other systemic diseases. Besides managing early dental disease before it becomes severe and requires more costly intervention, your dentist can help you obtain earlier treatment for many life-threatening or chronic diseases. 

 Dentists understand that when patients associate dental visits with pain and fear, they're less likely to return, so they will do everything possible to avoid dentist phobia and make patients feel both mentally and physically comfortable during treatment. No matter how awful you think the condition of your teeth and gums is, your dentist has likely seen much worse. If dental anxiety is standing between you and a healthy smile, be upfront about your fears. You may be surprised to find that your dentist is much more understanding and supportive than you expect. Take a positive step toward better health by scheduling a dental check-up today. To get the dental care you deserve from an affordable dentist in Bradenton, call today at or make an appointment. Manatee Dental offers affordable family dentistry and gentle, compassionate dental care in Bradenton. With 2 affiliated practices in the Bradenton area, our offices are conveniently located with extended hours to meet your needs. At , we provide most dental services, from basic preventative care and general dentistry to specialized procedures and complete dental reconstruction. We accept most dental insurance plans and offer affordable financial solutions for any budget. Patient satisfaction is our top priority and we strive to provide the exceptional, affordable dental care and personal touch that lead to lasting relationships. A smiling patient is our greatest reward and we look forward to keeping those smiles healthy, beautiful, and bright. Discover an affordable dentist who truly cares at .