Do I Really Need to Have My Wisdom Teeth Removed?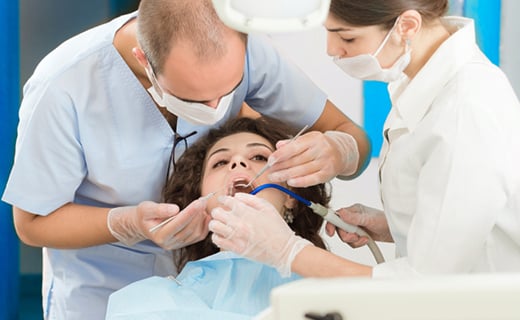 If your wisdom teeth erupt normally and are healthy, easy to clean, and correctly positioned in your jaw, wisdom tooth removal may not be necessary. Healthy third molars can be treated in the same way you treat your other teeth. However, if your wisdom teeth don't have enough room to grow, or they are growing in sideways or horizontally, they are likely to become either partially or fully impacted. Because this can cause serious problems for your other teeth and your general oral health, it is usually best to have a wisdom tooth extraction. Wisdom tooth removal is generally required when impacted wisdom teeth emerge through the gums partially, or remain completely encased inside your jaw beneath bone and gum tissue. If they emerge partially, they create a passageway that can predispose them to future problems. The area is difficult to see and clean properly, so it becomes a magnet for plaque and bacteria that cause infection, tooth decay, and gum disease. Dentists often recommend removal of healthy wisdom teeth that partially emerge, or grow near the nerve in the lower jaw. Many dental experts believe it is wise to remove wisdom teeth before their roots are fully formed. Younger patients recover faster from surgery, which is why many teens have wisdom teeth removal before they have a chance to become well rooted in their jaws. Sometimes it isn't clear whether wisdom tooth removal is necessary. Only your dentist or oral surgeon can determine the position and health of your wisdom teeth and decide whether removal is best for you. Wisdom tooth extraction is usually needed when you exhibit some of these signs:
Mouth pain
Repeated gum infections around wisdom tooth
Gingivitis or periodontitis
Serious tooth decay
Damage to adjacent teeth
Fluid-filled cysts
Formation of tumor
To get the dental care you deserve from an affordable dentist in Bradenton, call today at or make an appointment. Manatee Dental offers affordable family dentistry and gentle, compassionate dental care in Bradenton. With 2 affiliated practices in the Bradenton area, our offices are conveniently located with extended hours to meet your needs. At , we provide most dental services, from basic preventative care and general dentistry to specialized procedures and complete dental reconstruction. We accept most dental insurance plans and offer affordable financial solutions for any budget. Patient satisfaction is our top priority and we strive to provide the exceptional, affordable dental care and personal touch that lead to lasting relationships. A smiling patient is our greatest reward and we look forward to keeping those smiles healthy, beautiful, and bright. Discover an affordable dentist who truly cares at .