Brushing Up on Tooth Brushing Skills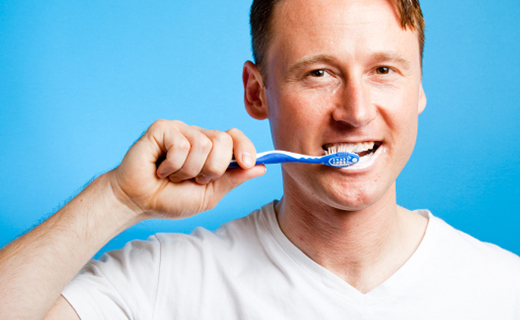 Tooth brushing has never been considered a fine art. Face it, it's one of those habits that's second nature. You perform it every morning after you drag yourself from a restful slumber and prepare for the day ahead. Then, each evening, you give the task equal amount of dedication, quickly scrubbing your teeth before you fall into bed. Dedication to proper tooth brushing techniques doesn't come easy when you are busy living your life. However, it only takes a few minutes a day and twice-yearly visits to the family dentistry office to properly care for your teeth. If your tooth brushing skills have become a bit lax, refresh the quality of your dental care routine with these tips.
What causes cavities?
Obviously not brushing at all will lead to cavities, but so will consuming sticky, sugary foods and beverages. These foods can adhere to the surface of the teeth without much effort and join with the bacteria of the mouth to form acids that will erode the teeth and lead to inflammation, decay, and cavities.
Is there too much acid in your diet?
You may not experience heartburn when you eat acidic foods, but you could be harming your teeth. Acids de-mineralize the teeth, weakening the surface of the tooth and making it susceptible to adverse conditions, like cavities. Sodas are highly acidic. Drinking a soda is almost the same as swallowing vinegar, when speaking about the health of your teeth.  Sodas—diet or regular—are bad for your health.
Are you brushing too soon?
A 2004 study in the journal, General Dentistry, found that scrubbing too quickly after a meal can actually aid in acid formation on the teeth. Brushing right after consumption of acidic foods can simply cause an etching-like effect on the teeth. It is best to wait about 20 to 30 minutes and let your natural saliva neutralize acids before brushing to avoid rubbing them into the surface of your teeth.
Rinse. Repeat.
If you don't have time to let your saliva do its job, rinse your mouth with warm water several times and then brush after a meal. This can be an effective practice even if you do not have access to brush. Warm water can help lower the pH of the mouth and neutralize acid production. Add in mouthwash and you can really do your part to stave off acid damage.
Daily brushing.
You should be brushing twice a day for at least two minutes—once in the morning and once before bed, after you are done eating and drinking for the day. Be sure to divide your mouth into quadrants and brush thoroughly, spending about 30 seconds on each section. Don't forget to brush your tongue to help fight bad breath. Floss for at least two minutes once a day to free bacteria from between teeth and promote the movement between your teeth of fluoride from your toothpaste and mouthwash.
To learn about our family dentistry practice in Bradenton, call Manatee Dental of East Bradenton today at (941) 538-6339 or make an appointment.
Manatee Dental offers affordable family dentistry and gentle, compassionate dental care in Bradenton. With 2 affiliated practices in the Bradenton area, our offices are conveniently located with extended hours to meet your needs. At Manatee Dental of East Bradenton, we provide most dental services, from basic preventative care and general dentistry to specialized procedures and complete dental reconstruction. We accept most dental insurance plans and offer affordable financial solutions for any budget. Patient satisfaction is our top priority and we strive to provide the exceptional, affordable dental care and personal touch that lead to lasting relationships. A smiling patient is our greatest reward and we look forward to keeping those smiles healthy, beautiful, and bright. Discover an affordable dentist who truly cares at Manatee Dental of East Bradenton.