Basic Facts About Teeth Whitening Procedures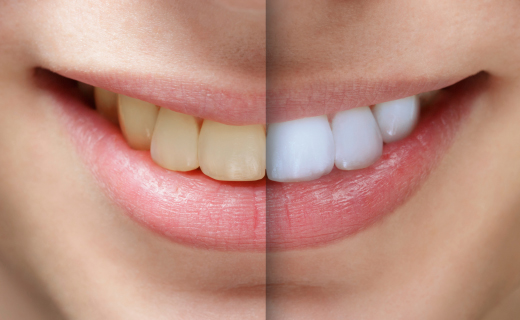 Yellow, gray, or brown tooth discoloration can kill your self-confidence and make you want to hide your smile from the world. If your teeth aren't as white as they used to be, you're not alone. Virtually everyone is at risk of tooth discoloration due to foods, drinks, tobacco use, and even normal aging. Fortunately, there are many ways to make your teeth whiter. In-office procedures, custom trays, and even over-the-counter products can restore your smile. All teeth whitening products rely on either bleaching action or abrasion.
How to Whiten Teeth with Bleaching – Whitening methods that use bleach can remove both deep stains and surface discoloration. In-office professional teeth whitening treatments rely on concentrated bleaching agents such as carbamide peroxide or hydrogen peroxide. Light-activated teeth whitening treatments generally cost more, but they provide immediate results. Custom whitening trays created by your dentist in Bradenton will whiten teeth at home over a period of several weeks; this option allows you to perform your own touch-ups when needed. Chairside whitening must be repeated when stains return. Over-the-counter bleaching kits can be purchased in a drugstore. They include boil-and-bite trays, brush-on whitening gels and pre-treated strips. Do-it-yourself kits may help you save money, but they won't give you the benefit of professional teeth whitening expertise. Your dentist knows how to whiten teeth evenly, and he or she can manage tooth sensitivity symptoms, which are common after the use of whitening products.
Teeth Whitening with Abrasion – Abrasive teeth whitening products do not contain bleach; they remove most external stains with physical polishing agents or chemicals. Whitening toothpaste is an example of an abrasion tooth-whitening method. Professional dental cleanings also rely on abrasive action and polishing agents. The abrasion method is usually most effective when only food or tobacco stains are present.
Since now you know how to whiten teeth in several different ways, it will be easier to discuss professional teeth whitening options with your dentist. Your dental team is best equipped to determine which treatment types will work best for your teeth. If you have severe tooth discoloration that even professional teeth whitening procedures can't correct, your dentist can offer other options such as veneers or bonding to give you the smile you've always wanted.
To get the dental care you deserve from an affordable dentist in Bradenton, call Manatee Dental of East Bradenton today at (941) 538-6339 or make an appointment.
Manatee Dental offers affordable family dentistry and gentle, compassionate dental care in Bradenton. With 2 affiliated practices in the Bradenton area, our offices are conveniently located with extended hours to meet your needs. At Manatee Dental of East Bradenton, we provide most dental services, from basic preventative care and general dentistry to specialized procedures and complete dental reconstruction. We accept most dental insurance plans and offer affordable financial solutions for any budget. Patient satisfaction is our top priority and we strive to provide the exceptional, affordable dental care and personal touch that lead to lasting relationships. A smiling patient is our greatest reward and we look forward to keeping those smiles healthy, beautiful, and bright. Discover an affordable dentist who truly cares at Manatee Dental of East Bradenton.