Are Teeth Affected by Genetics?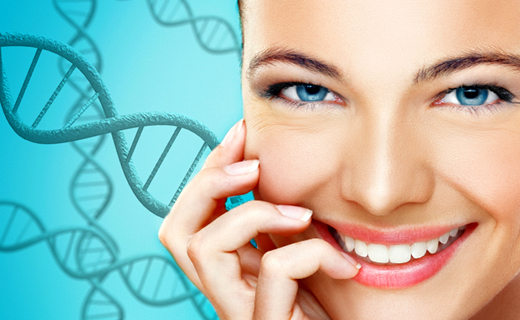 Genes affect many things in life. They can be indicators of not only disease risk, but how you will look, smile, and even potentially how you will perform academically and athletically. While some of those factors can never be changed, there is an aspect of your family heritage that you do have control over—your oral health. Your oral health, even with the influence of a poor family medical history, is very much in your control. Diligence to your dental care routine, including regular visits to an affordable dentist can ensure that you have healthy teeth, regardless of your genetic predisposition.
Avoiding gum disease and cavities is not that difficult, yet millions of people are affected by the conditions. Many people often wonder: are bad teeth genetic? Actually, everything about your smile and the state of your oral health is influenced in some way by your genetic make-up. One survey reports that teeth genetics play an important role in the oral health of about 30 percent of Americans.
A common trait passed down from generation to generation is greater susceptibility to cavities. A specific genetic variation was recently isolated and is believed to be connected to a higher incidence of cavities. Other genetically linked factors that raise the risk of cavities include low mineral saliva (unable to fight off acid erosion) and poorly aligned teeth (difficulty cleaning between teeth).
Genetic factors are also significantly linked to gum disease. The study that found a genetic variation connected to cavities, also found a specific gene that when activated, increases the risk of gum disease by up to 70%. You can also be at an increased risk of gum disease if you have family history of weakened immune defenses or poor immune response mechanisms.
If you are concerned about the effect of teeth genetics, talk to your dentist. He or she can help you develop a lifelong treatment plan, inclusive of habits that will address your potential weak spots. Practice good dental care habits to enjoy a healthy smile, no matter what may be lingering in your family medical history. Your diet, dental care routine, and frequency of visits to an affordable dentist in Bradenton can reverse a potentially hopeless situation.
To learn about our family dentistry practice in Bradenton, call Manatee Dental of East Bradenton today at (941) 538-6339 or make an appointment.
Manatee Dental offers affordable family dentistry and gentle, compassionate dental care in Bradenton. With 2 affiliated practices in the Bradenton area, our offices are conveniently located with extended hours to meet your needs. At Manatee Dental of East Bradenton, we provide most dental services, from basic preventative care and general dentistry to specialized procedures and complete dental reconstruction. We accept most dental insurance plans and offer affordable financial solutions for any budget. Patient satisfaction is our top priority and we strive to provide the exceptional, affordable dental care and personal touch that lead to lasting relationships. A smiling patient is our greatest reward and we look forward to keeping those smiles healthy, beautiful, and bright. Discover an affordable dentist who truly cares at Manatee Dental of East Bradenton.