Posted under:
General
Posted on: March 18, 2013
Antioxidants and avoiding sugar should be part of dental care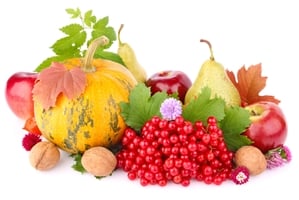 Antioxidants and avoiding sugar should be part of dental care. Low in sugar, high in antioxidants. That's a simple formula for choosing foods that are not only good for the body but that also contribute to good dental care. People who try to eat a healthy, balanced diet may be building the body's immunity against disease and building stronger teeth and gums. As our dentists in Bradenton will attest, one of the foods to keep at a minimum, for optimum oral health, is sugar, which adds to bacteria that can inflame gums and cause decay of tooth enamel. Inflammation is also a principal component of heart disease, cancer and other common ailments. But trying to limit sugar isn't enough to ward off disease and inflammations. One of the elements of fruits, vegetables, dairy products and other foods that are generally among the healthiest for the body and teeth are antioxidants. Consuming antioxidants has been shown to help reduce inflammation in the body and limit its effect on teeth and gums. Among the best known antioxidants are beta-carotene, lutein, lycopene, vitamin C, selenium and vitamin E, according to the National Cancer Institute. They can be found in a wide range of fruits – especially berries – and vegetables that include sweet potatoes, carrots, cantaloupe, squash and greens such as spinach and kale. Other foods such as milk and almonds carry a good share of antioxidants as well. Crunch and calcium When it comes to diet, choosing ways to keep down tooth decay and limit visits to the dentist office comes down to healthy, crunchy foods and those that contain enough calcium to strengthen teeth. According to WebMD, crunchy foods such as apples, pears, celery and carrots, scrape away damaging plaque from the teeth. They also remove surface stains on teeth from coffee, tea and red wine. In addition, fruits and vegetables also have high water content that can dilute the effect of sugar and acids and stimulate saliva to wash away food particles. To keep the health benefits and good taste of acidic ingredients such as citrus fruits and tomatoes in their diets, eat them with other foods to reduce the effect of the acids they contain. Between meals Consuming sugar slowly, both liquid and solids, does the most harm to teeth. Sipping a sugary beverage over a lengthy period, for instance, continuously coats the teeth with sugar, similar to sucking candies or even cough drops, which are also high in sugar content. Some foods, including many snacks, also stick to the teeth and allow bacteria to multiply in the mouth. Candies, sugary desserts and pastries, dried fruits and starchy foods such as potato chips, pretzels and french fries are among many culprits. For snacking between meals, cheese, plain yogurt and firm fruit are the best bets. Sugar substitutes added to food and beverages won't increase bacteria in the mouth, as sugar does. Substitutes don't add to the bacteria in the mouth and won't produce acids that cause decay because they aren't digested in the same way. However, people should beware of natural sugars such as molasses, honey and fructose. Just because a food product claims to be sugarless or sugar-free doesn't mean it doesn't contain natural sugar – often identified by names that end in "ose" – and can be as damaging as regular sugar. A healthy alternative snack is a handful of nuts. Peanuts and almonds contain calcium and walnuts have a host of minerals as well as fiber. Cashews even stimulate saliva to help clean the teeth. Regular cleanings and check-ups are a good part of keeping up with your oral health. Contact us today to book an appointment.